The Processes and the Technology
THE PRODUCTION CAPACITY OF TENAX PLANTS
Every year in TENAX production plants, over 19.000 tons of plastic netting are manufactured, in all size, mesh configurations and colours, for a wide variety of end-uses and applications.
Unsurpassed production capacity has been made this possible by the ongoing investments made by TENAX in the most up-to-date plant and process technology.
FLEXIBILITY OF PRODUCTION LINES
As well as having detailed knowledge of all extrusion processes, TENAX also benefits from its exclusive internal technological knowledge. Backed strongly by these resources, TENAX designs and builds extremely flexible production systems which are capable of being adapted to operating in different ways, according to the specific product to be manufactured.
This distinctive characteristics translates into a range of netting that is unrivalled, in terms of size, type of mesh and raw materials employed (polypropylene and polyethylene), as is borne out by the 2.000 plus products that TENAX is able to offer.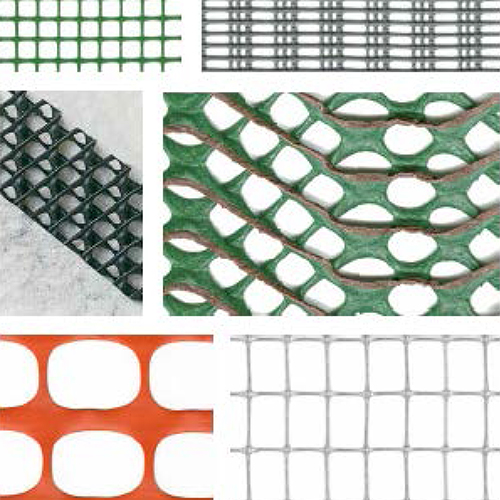 THE TECHNOLOGY
CONTRIBUTION TO THE EVOLUTION OF THE EXTRUSION PROCESS
Since the sixties, TENAX has pursued the philosophy of on-going technological innovation.
TENAX's contribution to the evolution of traditionally used extrusion processes has been significant, having radically modified and improved them with the aim of fully developing their potential.
The original systems set up in TENAX's plants have allowed the company to constantly broaden and diversify the range of products it manufactures. One example is the series of reticular filtration pipes which TENAX created in order to respond to a demand for products designed to offer environmental compatibility.
THE STRETCHING PROCESS
TENAX has also designed and patented an exclusive mono-axial and bi-axial stretching process which can orientate the polymer molecules in a regular fashion and provide products that are at the forefront of "leading-edge" technology, in terms of physical and mechanical characteristics and performance.
In fact TENAX's original stretching procedure gives even the lightest of netting exceptional resistance to traction, resulting in products that can support the heaviest stresses.

INNOVATIVE BONDING OF DIFFERENT MATERIALS
Its constant search for technological innovation applied to the productionprocess has allowed TENAX to break into totally new ground.
Special facilities were designed and built for bonding netting and fabrics using both heat and cold through a gluing machine, and therefore obtaining totally new applicable solutions that respond to the latest expectations of industry, agriculture and civil engineering.
FILM DIE-CUTTING PROCESS AND MOBILE FLAPS
TENAX has developed a new line that is completely focused on die-cut products. This technology allows for the production of highly technological products with a 3D structure that can adapt to received pressure. This solution prevents swelling of the film due to wind and keeps it in the required position.